Fraternity Rocca Sant'Angelo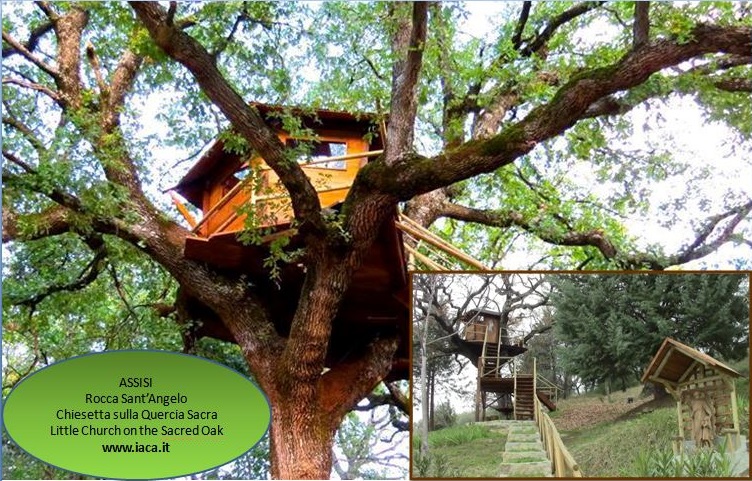 From a mystical place in Assisi
A dear friend writes:
"... We have known yesterday a place that radiates light for all the Creation,
which renders service to the Son and consoles our Savior Jesus.
A "necessary" place that you have taken on
for the Glory of God and the good of humanity ... "
The "Little Church on the Sacred Oak", built on a majestic centuries-old oak tree in the Community seat of Rocca Sant'Angelo, is the fruit of a wish expressed by the founder of the community - Marcello Ciai - and masterfully realized by a Romanian friend of his, without putting a nail in the majestic tree. Marcello climbs up on it only a few times to pray because inhibited by his illness, but he always prays, present there with his heart spiritually.

This architectural masterpiece in the green is the symbol of a new fraternity, which takes its name from Rocca Sant'Angelo: made up of many people who, even if living far away, are joined together in a relationship of mutual help and sharing, first in prayer, in the work that Marcello and his community are carrying out since 1980 in Assisi, in the Church and in the world.

"Rocca" evokes the strength that we draw from a constant and fervent prayer, as recommended by the Lord Jesus talking about the time of the end: "Be alert at all times, and pray that you may have the strength to escape all that is about to happen, and that you may be able to stand before the Son of Man".

"Angel", which means "messenger" in this case refers to Michael the Archangel, under whose powerful protection we put the messages that we send over the air, messages of faith, hope and love, peace and joy ...

Are you ready dear brothers and sisters for this divine adventure?

Then fill in the form below and click "Send".
Then if possible we will meet here personally at Rocca Sant'Angelo

BOOKS : you can know the story of the community and his founder Marcello Ciai on books.....
| | |
| --- | --- |
| | |
You can follow us on these sites:
mail: iaca@iacaassisi.org
Or social networks: